Custom Printed California Home Improvement Contracts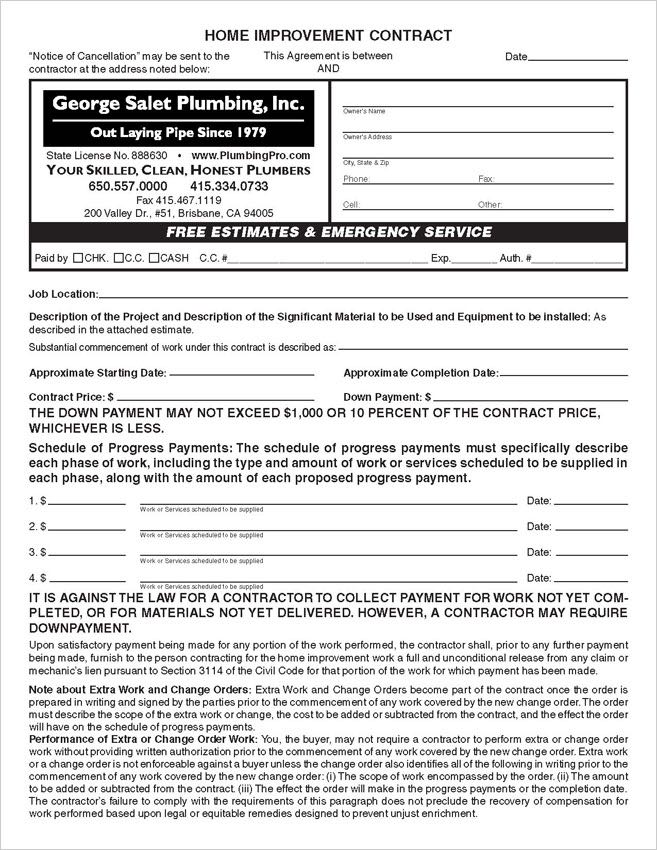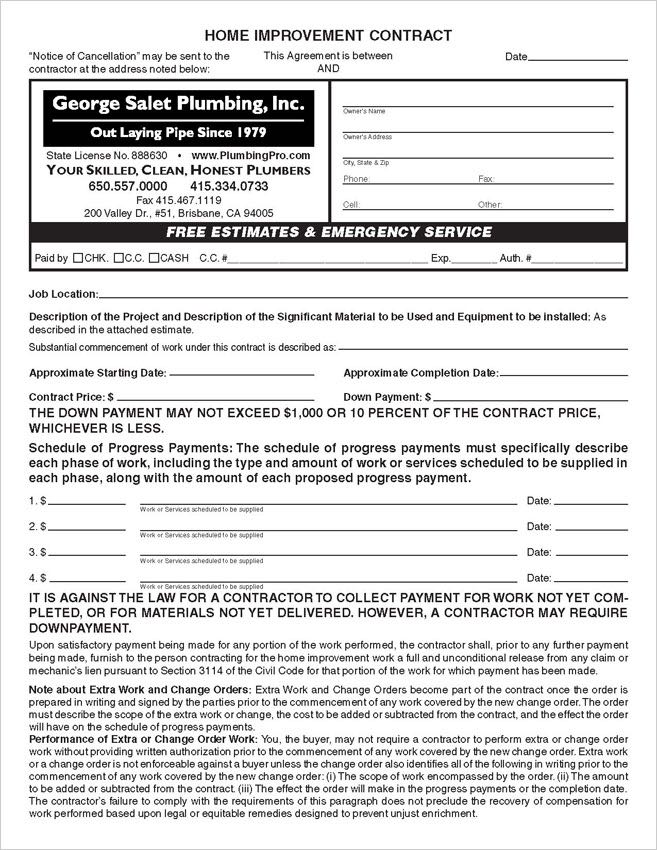 Complies with the the California State License Board (CSLB) requirements for jobs valued more than $500 that include home improvement.

These contracts are highly customizable; pricing reflects printing in black ink, color printing is available. Additional clauses, or customizing standard clauses can be done. Click here to see a sample with additional clauses. When additional clauses or paragraphs are added, pages or sets may have to be added at additional cost; custom work will be priced and approved before work proceeds.

Available in:

2 or 3 part contracts
Paper sequence: white, yellow, pink
11" and 14" lengths
Base Pricing includes the following sets:
Set 1: Home Improvement Contract page. Standard Terms and Conditions on back. 11 or 14 inch paper in 2 or 3 parts.
Set 2: Three-Day Right to Cancel page which includes Waiver of Right to Cancel clause and Notice of Cancellation on front; Mechanics Lien Warning, Information about the Contractors' State License Board (CSLB), Commercial General Liability Insurance clause, and Workers' Compensation Insurance clause on back printed in 2 parts.
All pages printed in black ink. Color option available.
All setup charges.
All production costs.
Ground shipping included.
Additional customization available by estimate.
2 part 11 inch Contract Sets
2 part 14 inch Contract Sets
3 part 11 inch Contract Sets
3 part 14 inch Contract Sets
To Order:

Click + on left edge of window to complete and submit Imprint Submission form.
Choose the quantity you want and click Add To Cart.
When you've added all the forms you want to the cart then click Checkout Now in the cart overlay to complete purchase.
You will receive order confirmation and proofs via email.
Payments: We are using Paypal to process our payments. You do not need a Paypal account to purchase from us. Choose "Don't have a Paypal account" when you get to the payment page.